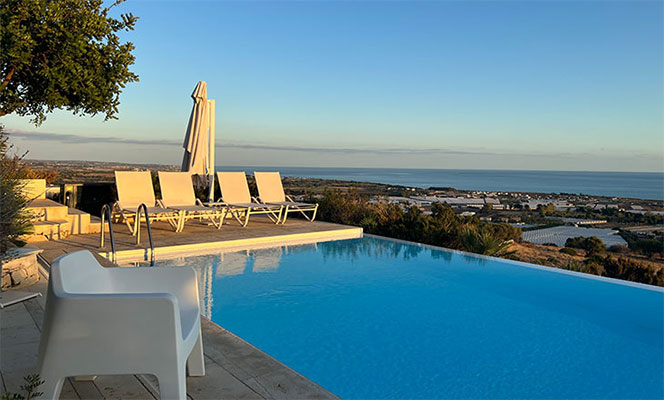 A luxurious oasis in the south-east of Sicily
For anyone wishing to combine a relaxed holiday with exploring the beautiful region of southeastern Sicily, Villa Quadra is the perfect choice. You can enjoy the magnificent sandy beaches and discover the historic towns of Ragusa, Scicli, Modica and Noto.
We booked Villa Quadra through Villatravellers rental company, which made the whole organization easier for us. They even helped us choose the villa that best suited our needs. If you are looking for an unforgettable experience in Sicily, Villatravellers, with more than ten years of experience, is the ideal option.
Location
Rooms
On the ground floor there is one bedroom, while on the upper floor there are two bedrooms with en-suite bathrooms and a living room. The rooms are decorated in delightful shades of white, coffee and cream, with tasteful details in contrasting colours. The delicate elegance and comfort of the villa allow you to enjoy your privacy while enjoying the common areas.
Swimming pool
A staircase leads to the swimming pool, located under the villa. The pool is minimalist in design, with a beautiful infinity pool big enough for your morning swim sessions. It also has sun loungers, a small seating area and an outdoor bathroom with shower.
For the summer 2023 season, the owners plan to add a two-person heated jacuzzi near the pool area, which will add a real touch of luxury to Quadra's already breathtaking outdoor space.
The outdoor kitchen
Another staircase leads to the pretty outdoor kitchen, with a dining table in the shade, as well as a hob, sink and barbecue, which makes cooking so relaxing! We spent some of our best evenings cooking at home. Thanks to Villatravellers, we also enjoyed cooking lessons from a local chef in the outdoor kitchen! The super talented Chef Giovanni prepared the authentic cuisine and wines of the region for us, which added an unforgettable touch to our trip.
Villatravellers
The property management company in charge of supervising the villa, Villatravellers is dedicated to providing exclusive holidays throughout Sicily. Dedicated to sharing the love and passion for Sicily and its culture, they offer high quality villa accommodation and offer exceptional customer service to their clients. A dedicated concierge service is there for you 24/7, and if you have any special requests, Villatravellers will be happy to provide you with authentic cultural experiences and personalized itineraries.
Villa Quadra has 3 bedrooms and can accommodate 6 people
It is available through Villatravellers from EUR 2,500 per week
www.villatravellers.com
+44 20 3608 4505
[email protected]