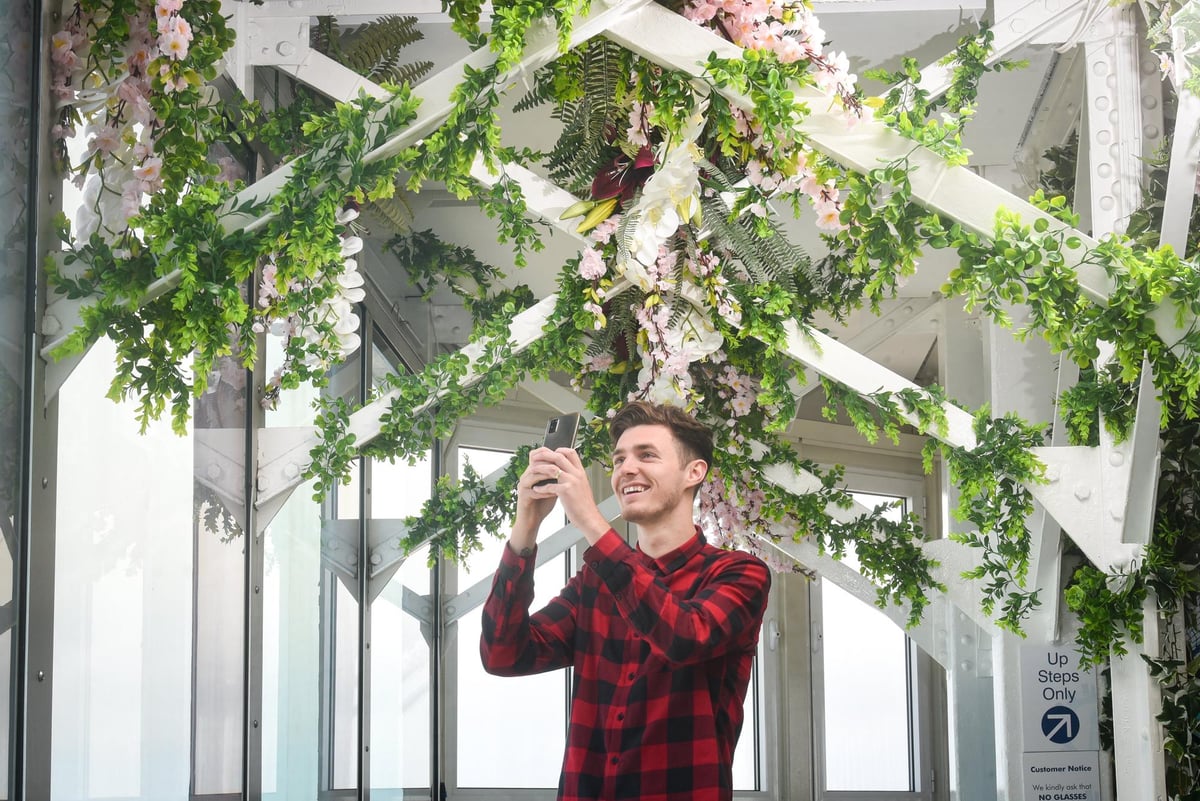 Amazing garden oasis created on top of Blackpool Tower
A stunning array of artificial botanical and floral arrangements have been expertly created especially for this iconic landmark, such as orchids, palms, pink cherry blossoms and lilies.
The Magical Garden is in the Tower Eye, the highest level which offers stunning views over Blackpool and the Irish Sea and includes the famous Sky Walk viewing platform.
With thousands of exhibits, including trailing vines and a wall of flowers 380 feet in the sky, Tower Top Garden is in place until Sunday, August 28, giving visitors the chance to soak up the sights on the Fylde Coast and get the perfect selfie.
The beautiful garden at the top of Blackpool Tower
Read more
Read more
Blackpool nurse saves teenager who chokes on nacho while on holiday at Disneyland Paris
Visitors will have the opportunity to explore the garden and spend some time away from the heat while enjoying the panoramic views that Tower Eye offers.
Aaron Edgar, Senior Director of Attractions at Blackpool Tower, said: "Our Tower Eye offers unrivaled views of our stunning coastline, so we're delighted to
unveil our Tower Top Garden and offer something extra this summer.
The Tower Top Garden, with its incredible views, proves to be a popular spot for selfies
"We wanted to bring the outdoors in and create a beautiful garden where our visitors can take the perfect selfie and enjoy the view…and soak up the sun.
"We've worked closely with Margaret Mason Special Event Florist to bring a wealth of displays and different types of flowers, so we're looking forward to
introduce the garden to new and returning visitors.
Some of the beautiful pink orchids in Tower Top Garden at Blackpool Tower
Once in the garden, visitors will also have the chance to discover the famous Skywalk, a five centimeter thick glass observation platform, offering a unique view of the
Blackpool Promenade just below.
Aaron added: "We know we have lots of families who love to visit us every summer, so we're extremely proud to have created one of the tallest indoor gardens in the country, which makes the Tower Eye even more special."
Tower Top Garden is included in all standard Tower Eye tickets until August 28.
The iconic Blackpool tower now has a stunning garden at the top, until August 28
For more information visit: www.theblackpooltower.com