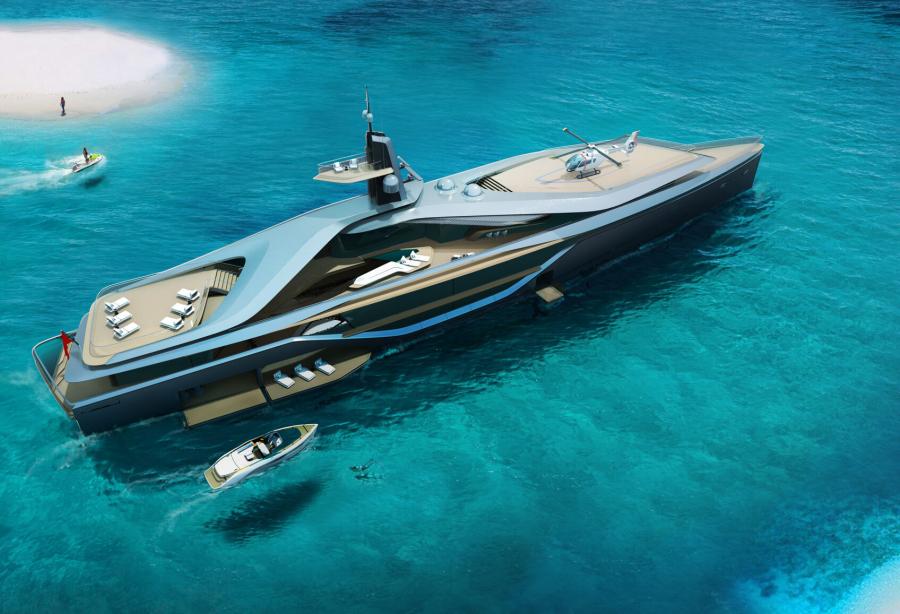 Can the new Kairos project exist in harmony with the environment?
Kairos is a new kind of living space that allows an owner and their guests to connect, share and create by synchronously experiencing multiple environments on board. It offers 90 meters of life on board without borders, created in harmony with Oceanco's NXT initiative on sustainability and innovation. The yacht is the result of a first collaboration between the famous design studio Pininfarina and the great builder of custom yachts Oceanco, with technical design and technical development provided by Lateral Naval Architects.
"Kairos is a remarkable Tomorrow's Design yacht born from a vision shared by three passionate and avant-garde partners of Pininfarina, Lateral and Oceanco. It illustrates how Oceanco looks to the future through the NXT integrated approach to yacht design, harnessing the latest developments in technical and propulsion systems while reflecting the evolution of our experience of yacht design. life ", comments Marcel Onkenhout, CEO of Oceanco. "When owners see Oceanco NXT on a yacht's design, they know they can expect to enjoy a certain high standard of living on board; one that is in tune with cutting-edge perspectives on sustainability and lifestyle.
The exterior of the yacht has been shaped to evoke an oasis of peace in which to relax and enjoy the weather at your leisure. Like a floating, living island, KAIROS has a symmetrical profile with no "forward" direction to aim at. This elimination of momentum frees those on board to live fully in the moment, without the sense of urgency to move to a new destination.

"Flag bearer of the Italian style for more than 90 years, Pininfarina has over the years developed high-end yachting projects through its nautical division. The continuous search for beauty and innovation has resulted in Kairos, a revolutionary project designed for Oceanco. Drawing inspiration from the long experience of bespoke projects – from cars to architecture – Pininfarina and Oceanco have created a whole new yachting experience. "
The heart of life on board is the vast theatrical square, to which all the entry points of Kairos lead. Developed vertically on three levels, the square breaks with the canons of conventional yacht design. The intricate design combines amazing asymmetric shapes, transparent structures and a lack of physical barriers, influenced by the contrasting and multidimensional landscapes that exist in our daily life. It is a captivating space where it is good to share inspiring moments, conveying a feeling of freedom and joy.

"Our passion as designers is to imagine new space concepts capable of enchanting every moment of the experience," comments Paolo Pininfarina. "At Kairos, time, space and people connect to become one in the present moment. The owner and his guests are at the epicenter of the on-board experience, and the surrounding space adapts to all their desires. A 360-degree approach to design connects you to both the sea below, the light above, and the spaces and people next to you. It feeds your curiosity on an instinctive level and encourages you to explore new experiences and perspectives.
The cabins on Kairos have all been placed on the lower level, allowing for a greater sense of space and movement through the main level guest areas while providing exceptional near water views.

The layout on Kairos encourages social interaction while preserving the magic of intimate moments in private places. For example, on the panoramic balcony accessible over the upper deck by an elevator, guests can enjoy a moment of calm and sanctuary while taking in the sea view.
Kairos was created to align with Oceanco's NXT initiative on sustainability and innovation, through the development of Lateral's naval architecture and engineering. Over the past few years, the builder and naval architecture studio have partnered with a number of innovative projects, including Black Pearl, the world's most eco-friendly yacht, and Bravo Eugenia, the first LIFE superyacht. Oceanco design that offers a 30% increase in energy efficiency. .
The creative layout of Kairos is made possible by an innovative, all-electric propulsion and power system architecture. The e-Hybrid system incorporates batteries as the primary means of power delivery, allowing the various power demands of hotel, propulsion and maneuvering loads to be met seamlessly. Diesel generators are provided for battery charging and high speed cruising, selected without the constraints of conventional diesel electric and solely on the basis of efficiency and energy density.
The result is an elegant solution with flexibility in space distribution and a compact layout that allows the main machinery space to be housed in a single level compartment. Guest space is therefore maximized on the popular waterline lower deck, allowing KAIROS 'alluring piazza to take center stage.
The e-Hybrid architecture allows extended operation without noise, less vibration and zero local emissions.
"Kairos is the first project undertaken as part of the Oceanco NXT initiative. Through collaboration with unique creative minds, key elements of NXT have been brought to light to deliver a next-generation user experience, "adds James Roy, Managing Director of Lateral. "Capable of operating at zero emissions, the architecture of the propulsion and energy system integrates many elements of our strategy for the future to guarantee Kairos avoid technical obsolescence as emerging sustainable technologies enter the market. The engineering platform we developed allowed for greater creative freedom to realize the unique design elements of Kairos. These presented us with an edifying technical challenge as naval architects and engineers, and the result offers a next-generation on-board experience. "
Oceanco sees its future customers – those who match the outlook and culture of the company well – as "young at heart" owners who seek something unique and forward thinking in their yachts. To best serve them, she must understand what they will want from their yachts tomorrow and come up with solutions today. These solutions require rethinking everything, from assumptions about how we use the spaces we live in, to the main factors as to why someone would want to own a yacht.
By working with pioneers inside and outside the industry to answer these questions, it has become clear that we are living in a time of dynamic change. This new era demands significant innovation aligned with emerging ideologies and approaches, with an emphasis on increased awareness of sustainability and stewardship of the planet.
What began as a conversation about sustainable innovation in yachting quickly turned into a much broader assessment of all aspects of life on board, deck layouts and the types of modern spaces that serve the better owners and guests, with the integration of technology and well-being.
Oceanco calls this dialogue and its outputs Oceanco NXT. As the meeting of the brightest minds in an experimental think tank, Oceanco works with a global collective of experts from a wide range of industries to bring new perspectives to its vision for the future of yachting, with results. inspiring. The work on Oceanco NXT innovation never stops. It is a continuous process of significant progress. A sustainable investment in our future.