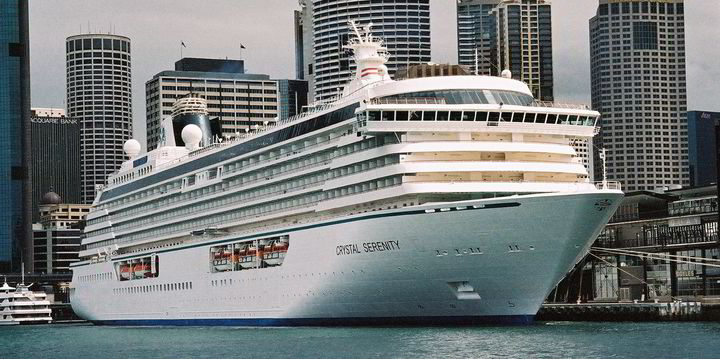 Crystal Cruise duo head to Bahamas auction
The two largest cruise ships in the fleet of Crystal Cruises, a bankrupt subsidiary of Genting Hong Kong, will be auctioned in the Bahamas on June 7.
The 68,900gt Crystal Serenity (built in 2003) and the 51,000gt Crystal Symphony (built in 1995) are being sold through a sealed tender process, with bids to be submitted to the Supreme Court of the Commonwealth of Bahamas with a 10% deposit. .
The two luxury class ships have been stopped in Freeport since February 5, where they arrived after the collapse in January of Crystal's parent company, Genting Hong Kong.
Cruise brokers told TradeWinds that both ships are attractive candidates for high-end cruise lines looking to expand or upgrade their fleets. The ships have been extensively refurbished in recent years and the maintenance they have received has been "top notch".
They are described as attractive to ultra-luxury operators but are seen as good candidates for lower tier businesses, which have similar but smaller ships.
Most cruise ship sales over the past two years have been at or slightly above scrap value as cruise majors such as Carnival Corp and Royal Caribbean flood the market with sales of unwanted scrap.
The article continues below the ad
However, few luxury ships in the cruise spectrum have gone on sale in the past two years.
VesselsValue sets a scrap value of $22.2 million on the Crystal Serenity and $17 million on the Crystal Symphony. The online platform estimates that the first ship has a trade value of $87.4 million and the second just $18.2 million.
However, brokers warned that it was difficult to put price tags on the duo due to continued uncertainty in cruise trades.
If the courts in the Bahamas can arrange a quick sale of the Crystal Serenity and the Crystal Symphony, Genting's liquidators will have to try to find buyers for the Polar-class expedition cruise ship Crystal Endeavor (built in 2021) and four ships of European river cruise.
Industry sources say the vessels, which are all in European waters, are already attracting strong interest from potential buyers.
TradeWinds recently reported that Genting's liquidators recently sold the three former cruise ships operated by the Star Cruises brand for recycling in India.
In March, German administrators of Genting's shipyard division sold the Lloyd Werft shipyard to a joint venture between marine engineering firm Heinrich Ronner Group and real estate firm Zech Group.
Efforts are underway to find a buyer for the nearly completed 201,000 GT Global Dream being built at MV Werften, after which efforts will turn to selling the yard.
In Asia, Genting's majority shareholder Lim Kok Thay formed a new cruise line, Resorts World Cruises, and chartered the 150,700 gt Genting Dream (built in 2017) from a leasing company owned by a consortium of Chinese banks.