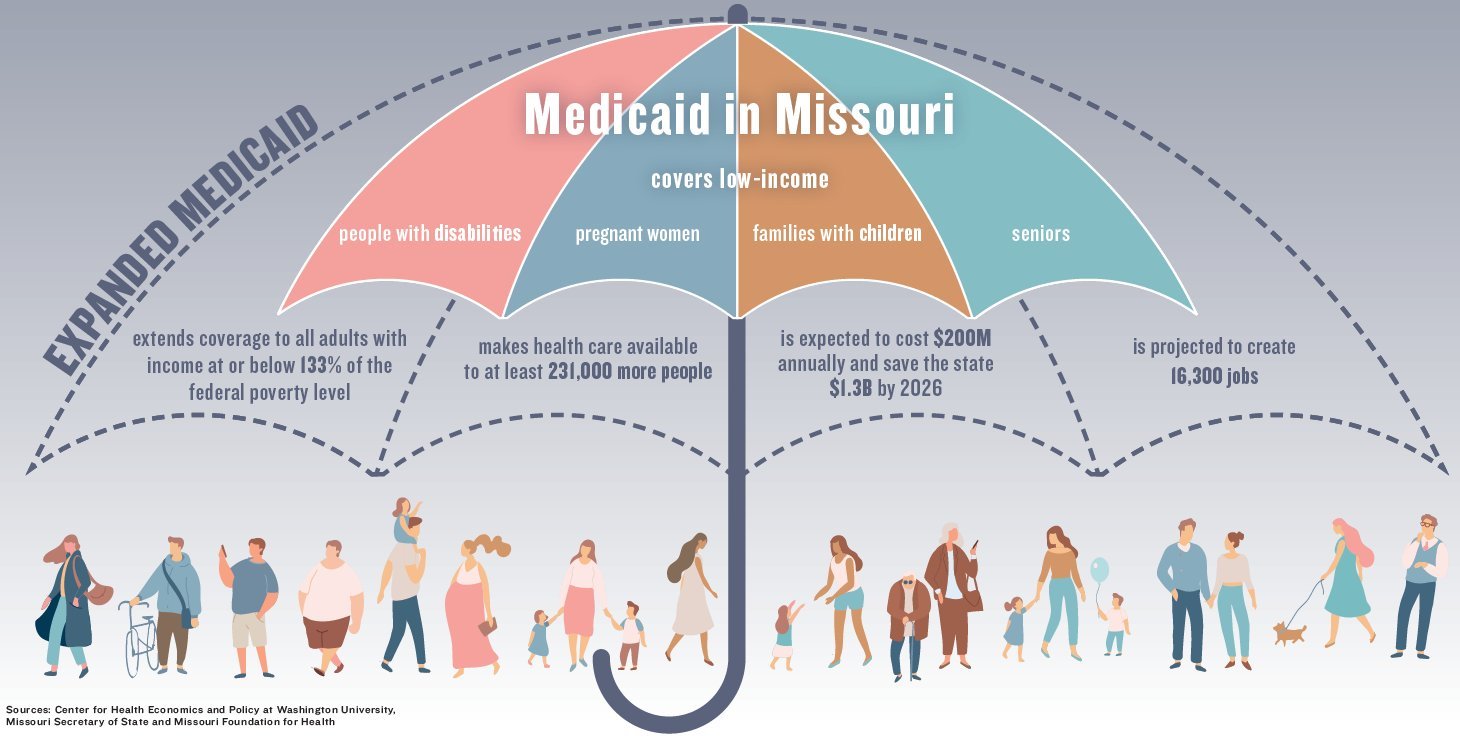 Medicaid Extension, Primary Approved Payday Loan Fee
Voters in Greene County yesterday approved the Medicaid expansion amendment – joining 37 states in the legislative movement – and new regulations on local payday loan companies.
In yesterday's primary election, about 32 percent, or 53,430, of the county's 166,222 registered voters voted, according to the unofficial election results posted by the Greene County Clerk's Office last night.
Amendment 2
Voters in Greene County and the state narrowly approved Missouri to adopt the Medicaid expansion.
In Greene County, Amendment 2 passed with 52.3% of the vote, according to unofficial election results. There were over 27,700 votes in favor of the proposal. At the state level, the amendment garnered 53.3% of the favorable votes out of nearly 1.3 million cast, according to the unofficial results issued by the Office of the Secretary of State for Missouri.
The legislation passed means that coverage will be extended to at least 231,000 additional people between the ages of 19 and 65 who have an annual income equal to or below 133% of the federal poverty line, according to past reports from the Springfield Business Journal.
This works out to about $ 17,000 per year for an individual or $ 29,000 for a family of three. Prior to yesterday's vote, the state's Medicaid program, MO HealthNet, was only available to low-income people in four categories: people with disabilities, families with children, the elderly, and pregnant women. There were more than 923,000 enrolled in May, according to the Missouri Department of Social Services.
The Medicaid expansion is expected to cost $ 200 million per year and save the state $ 1.3 billion by 2026, and the expansion is expected to create 16,300 jobs, according to earlier reports.
In the January state-of-the-state address, Governor Mike Parson called the Medicaid expansion a "massive tax hike that Missourians cannot afford." Spend more dollars on health care systems and make preventive care more accessible to childless adults aged 19 to 65.
Payday loans
The payday loan initiative was adopted by 56.7%, or more than 14,700 voters, according to the Greene County results.
It's part of an ordinance passed in May by Springfield City Council to reform short-term lending practices. Yesterday's affirmative vote means the city can start collecting an annual fee of $ 5,000 – or $ 2,500 if less than six months are left in the calendar year in which the permit is issued – from residents. payday loan companies, according to past SBJ reports.
The Council's order earlier this year required payday loan companies to obtain an annual permit from the city and post information on-site for customers to view, such as interest rates and fees, and providing borrowers with information on repayments.
Candidate results
Yesterday's primary also included several candidate choices ahead of the November general election.
More than 84% of Missouri voters who voted Democratic sent Missouri state auditor Nicole Galloway to challenge incumbent Gov. Parson, who won 75% of the vote in the Republican poll. Also at the state level, former Missouri House of Representatives Vicki Englund was elected to hire outgoing Treasurer Scott Fitzpatrick, a Republican owner of Shell Knob-based MariCorps US LLC. The two treasurer races were unopposed.
For the 7th Congressional District seat in southwest Missouri, outgoing Rep. Billy Long got the nod with 66 percent of the vote. Democrat Teresa Montseny, who ran unopposed in the primary, will challenge him in the November elections.
Locally, homebuilder Rusty MacLachlan was chosen over State Representative Sonya Anderson for the Greene County Commission seat which is vacant by the retire Harold Bengsch.
Other candidate races include:
• Lieutenant Governor, incumbent Republican Mike Kehoe obtaining nearly 59% of the vote and Democrat Alissia Canady 73.5% of the vote;
• Attorney General, outgoing Republican Eric Schmitt running unopposed and Democrat Rich Finneran collecting 55.4% of the vote;
• the Secretary of State, the outgoing Republican Jay Ashcroft running without opposition and the Democratic candidate Yinka Faleti also running without a challenger;
• Missouri House District 131, with Bill Owen winning nearly 86% of the total Republican ballot and Democrat Allison Schoolcraft running unopposed;
• Missouri House District 132, with outgoing Democrat Crystal Quade and Republican challenger Sarah Semple both running unopposed; and
• Missouri House District 134, with Alex Riley winning 70.7% on the Republic ticket and Democrat Derrick Nowlin running unopposed.