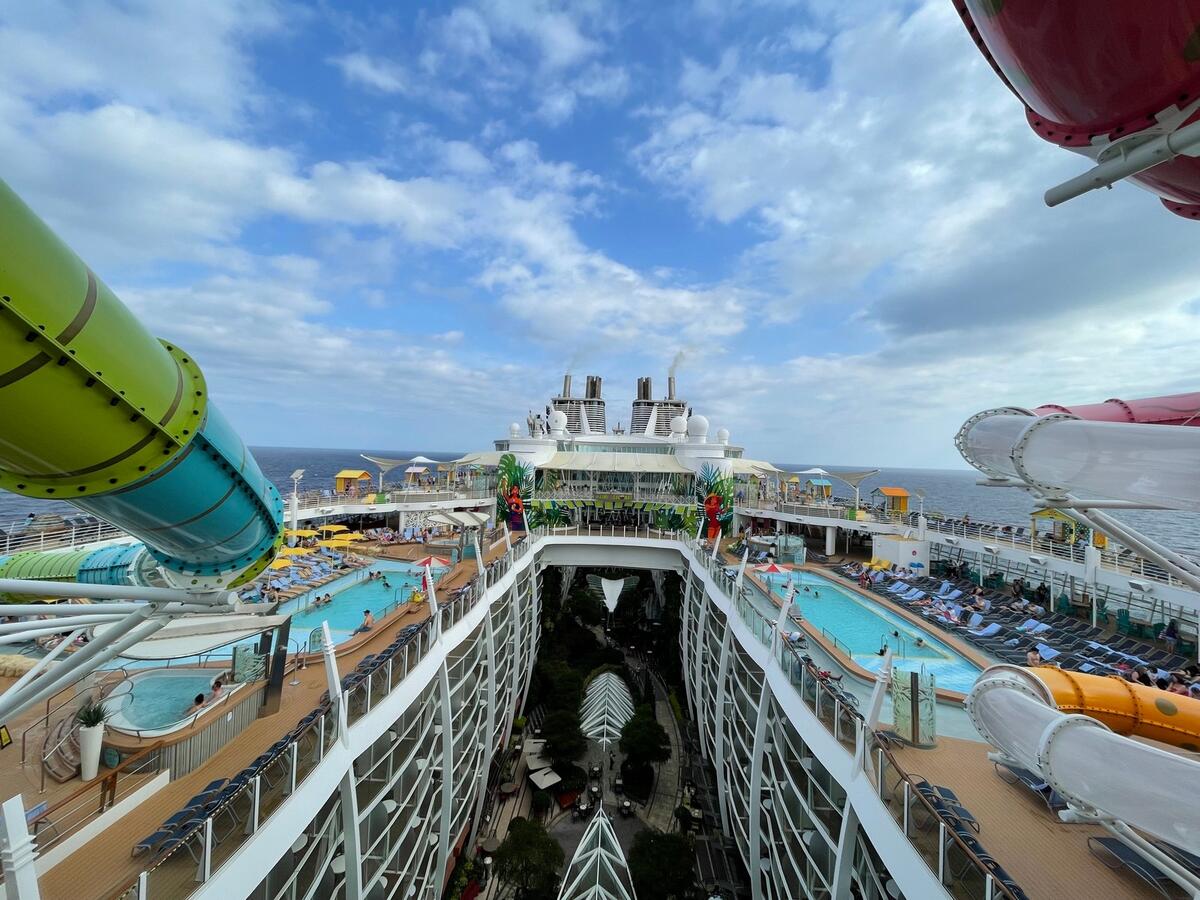 Oasis of the Seas Live Blog – Day 2 – Sea Day
Our first full day on Oasis of the Seas is a day at sea, which means it's time to check out the ship and relax.
When you're on an Oasis-class ship for just three nights, that leaves you with little time to try and see it all, but again, a cruise is better than no cruise!
We started our morning with breakfast at the Coastal Kitchen, the free restaurant for suite guests.
Our cabin is on deck 17, which is the same deck as Coastal Kitchen and the Suite Lounge. It's very convenient to have our cabin so close, especially after being in an AquaTheater suite on a different deck and at the back of the ship while we were on Wonder of the Seas.
One thing I quickly notice when we sail without the kids is how much more free time we have to relax. My kids always want to know what's next, so this time it's good to take it down a notch.
We headed out to the pool deck to enjoy the weather outside with the ocean breeze. The weather was warm today (high 83 degrees Fahrenheit), but the sea breeze kept things cozy.
I walked into the Sun Deck Suite, which is an area reserved for suite guests. There are not just plenty of seats surrounding the raised deck, but "cabins" available on a first-come, first-served basis.
Next up was the Top Tier Crown and Anchor Society event at the AquaTheater.
It's unusual to have a high profile event on a 3 night cruise, but I guess it's easier to maintain as Oasis does mostly 7 night cruises than stopping for a sail.
Before the start of the event, I met Miles from Manchester, UK. He loves sailing and started sailing when he was six months and a day old.
Since then, he has already taken part in 33 cruises and aims to achieve Pinnacle Club status as soon as he can. It's great to meet cruisers like Miles who love going on a boat so much.
After the high-profile event, we headed out to the jogging track to see one of my favorite hidden secrets of the Oasis of the Seas: the rear-facing chairs.
For lunch, we booked Izumi hibachi.
While dinner reservations were booked quickly before the start of the cruise for Izumi hibachi, lunch is generally available on sea days and cannot be booked online.
It was another great meal and the food did not disappoint.
After lunch, we returned to our suite to relax a bit. My wife likes to go out on the balcony and read her book.
Did a bit of work from the suite then headed over to Portside BBQ to see the guitarist live.
Nate performs in Portside BBQ, and he was the pub guitarist on Mariner of the Seas in 2019. It was great to see him perform on a boat again.
I then headed to the back of the ship to enjoy the breeze at the Wipeout Bar.
As the afternoon turned into evening, I returned to the bedroom to get ready for dinner.
On short sailings, Royal Caribbean doesn't call it a formal night. Instead, they refer to it as dressing your best. "What's the difference", you ask? If you ask me, it's the same difference. Basically, wear something nicer than other nights.
It was time for dinner at 150 Central Park tonight.
Every time we dine at 150 Central Park, it's an excuse to eat above all the garlic bread they put out at the start of the meal and the fried cheesecake for dessert.
Our after dinner drinks took us to Playmakers as the temperatures had cooled and it was nice to be on the boardwalk.
Tomorrow we will be at Perfect Day at CocoCay.
Spurious observations
When your cruise doesn't have a long way to go, the captain will take the ship through some interesting patterns.