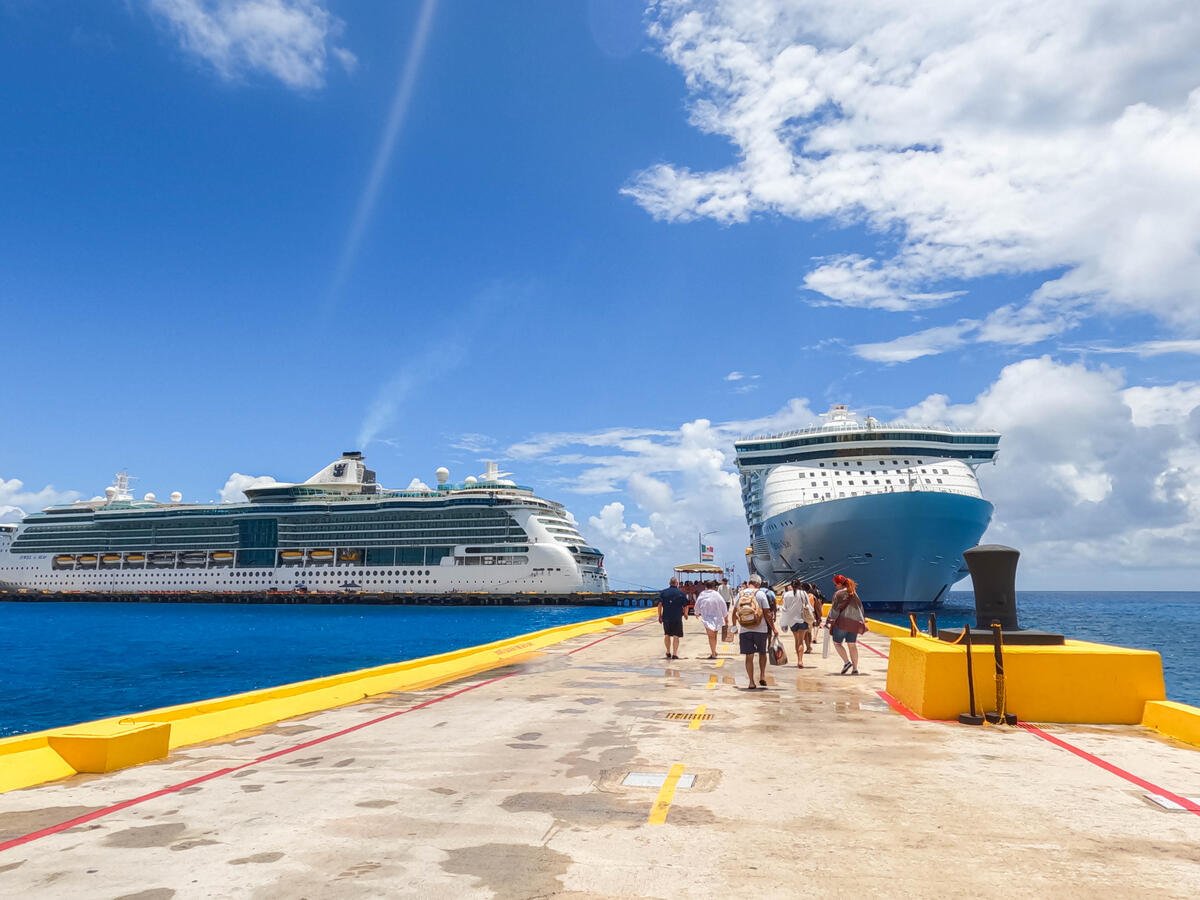 Oasis of the Seas Live Blog – Day 3 – Costa Maya
Today the Oasis of the Seas docked in Costa Maya, Mexico for the only port day of our 4 night cruise. From beaches to biking and mouth watering Mexican food, it was an action packed day.
The gangway opened around 8am and I disembarked Oasis of the Seas right away so I could start my day before it got too hot. We were moored next to Jewel of the Seas.
I was hoping to rent a bike, but was wary of booking in advance as the weather forecast predicted thunderstorms. However, the weather looked sunny with partial clouds in the morning, so I took a chance on a bike ride.
The best day I've had in port so far was when I rented an e-bike from St Maarten and rode the whole island in one day. Being on a bike is so liberating because there's no need to wait for taxis or worry about how you're going to get from place to place, so I was looking forward to discovering Mexico at bike.
I rented a bike for the day from a tour operator next to the replica Mayan pyramid in Costa Maya, located just outside the port. The total cost for a day rental was 300 MXP, or about 15 USD. I was given a pink beach cruiser, and while it wasn't as fancy as the hybrid e-bike I had in St. Maarten, it was perfect for exploring the Costa Maya coastline.
The only other time I was in Costa Maya, I visited the Mayan Ruins of Chacchoben, and although it was a great day, the tour left no extra time to explore the Costa Maya. Therefore, today's plan was to experience the culture and lifestyle of Mahahual, the town next to the Costa Maya cruise port.
Related: Focus excursion: the ruins of Chacchoben in Costa Maya
I started with a short trip to the Faro de Mahahual, a lighthouse with a nice view of the harbor. From here begins a 1/2 mile stretch of a car-free boardwalk lined with shops, restaurants, cafes, and beach clubs. Called malecón in Spanish, it's a hub of activity and the perfect place to get a taste of Mexican culture.
I walked the length of the boardwalk and continued on, which turned into a gravel road followed by a stretch of sandy road surrounded by both ocean and rainforest. I rode about 6 miles each way on the quiet road, passing popular resort towns like Maya Chan before turning around to cycle back to the Malecón.
I'm lucky I turned around when I did, because as soon as I got back on the boardwalk it started to rain! I sought refuge at La Dolce Vita cafe, where I ate one of the best smoothies ever, made with mango, maracuya (passion fruit) and banana.
Next was lunch, and I was hoping to sample some authentic, non-touristy Mexican food. I chose La Curvita, a small restaurant around the corner two blocks from the Malecón, where I had a delicious meal of chilaquiles rojos.
If you're looking to grab a good meal at the port, my best advice is to get off the main tourist street and find a little hole in the wall restaurant full of locals. Also, if the menu is small and not in English, it's a good sign that the food will be authentic and at local prices.
Using these tips, whether in Rome, Thailand, the Bahamas or Mexico, will usually always result in a fantastic meal.
It rained lightly intermittently throughout the afternoon, but since the humidity was so high, it was quite pleasant! Today was a good reminder to never overthink the weather forecast when cruising to tropical destinations. I was expecting a day of heavy rain and thunderstorms, but that was not the case at all.
I did some more cycling around the boardwalk and in the town of Mahahual itself, grabbed an espresso and a pastry from La Tartaleta Panadería, dropped off my bike and rode back to Oasis of the Seas .
As I expected, renting a bike resulted in an unforgettable day exploring Costa Maya and Mahahual. I was surprised at how bike-friendly the city is, and would recommend anyone interested in a lightly active day to hire a bike!
Back on board, I spent some time relaxing in the thermal suite and in my cabin.
It was an Indian night at the Windjammer for dinner and it was super delicious! After dinner, I spent the rest of the evening relaxing in Central Park with an espresso martini while listening to live piano music.
All in all, it was a wonderful day in port and on board. Latin America has always been my favorite part of the world, so I love taking a cruise to Mexico. Mahahual exceeded my expectations and I found all the locals extremely friendly!
Tomorrow is the last day of our cruise, which will be at sea.
Spurious observations
I'm generally not a fan of port areas, and the port of Costa Maya is a bit like a Mexican-themed Disneyland. The pool is nice and there are plenty of shops and restaurants to enjoy, but you really don't feel like you're in Mexico while there. I recommend leaving the port and visiting the malecón of Mahahual instead!
The seaweed in Costa Maya looked much worse than I remembered during my brief visit in September 2021.
If you are traveling with children, I would recommend taking a taxi to the Malecón and renting a bike from there rather than near the cruise port to avoid cycling on the roads with cars .
I always really want to try a day at Maya Chan so I will definitely do that next time I'm in Costa Maya!
Thanks also to my cabin attendant, Mustofa, for being a Royal Caribbean blog reader!