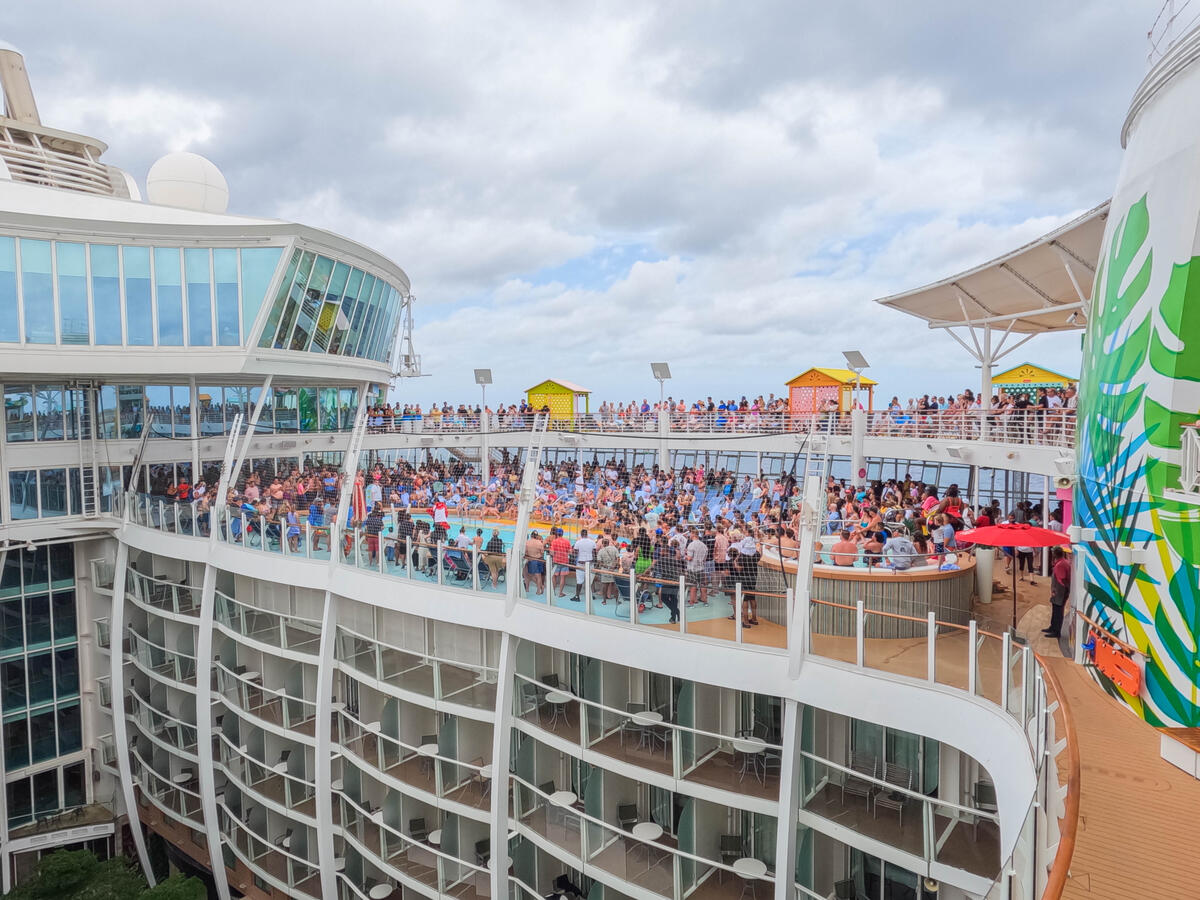 Oasis of the Seas Live Blog – Day 4 – Sea Day
My last day on Oasis of the Seas is a day at sea as we return to Miami.
I started my morning in the solarium to watch the sunrise. It was very colorful this morning, and quite a few passengers were outside on the terrace.
I then had a banana, strawberry, blueberry and peanut butter smoothie at the Vitality Cafe. I'm definitely going to miss the made-to-order smoothies when sailing non-Oasis class ships!
This morning I had to catch up on some work for Royal Caribbean Blog, and since it was too early to get to my "wine office" at Vintages, I went to the Card Room.
The Chart Room is a bit of a hidden gem on Oasis of the Seas, with a few sets of tables and chairs and a fantastic view of the boardwalk and back. Several board and card games are also available free of charge, which many passengers enjoyed throughout the morning.
This area of ​​the ship has been replaced by Wonderland on Symphony, Harmony, and Wonder of the Seas.
Lunch and pool fun
I decided to try something new for lunch and went to Portside BBQ. This is the only barbecue restaurant in the Royal Caribbean fleet, serving classic comfort food and a variety of meats. It's only available on Oasis of the Seas, so I thought I'd try it before the cruise was over.
Portside BBQ is a casual, quick-service restaurant, but it's not included in your cruise fare. Prices for a full meal range from $10 to $15, which includes a selection of meats and sides, ranging from pulled pork to turkey breast and thighs.
I'm a pescetarian, so I admit I'm the worst person to do a full review of a meat-centric BBQ restaurant. However, I still wanted to try Portside BBQ, so I ordered two sides and a dessert.
My sides (mac & cheese and grilled corn on the cob) were really tasty, although I thought the portions were a bit small considering each side was $3. The dessert, however, was phenomenal.
I ordered the Chocolate Brookie, a half-brownie, half-chocolate bar that was perfectly chewy, perfectly melty, and deliciously sweet. I'm sorry for having waited until the last day of the cruise to order it! Fortunately, each order came with two brookies.
The Men's International Belly Flop competition was after lunch, and as this is an activity that has only recently returned to ships, I was excited to see what it was all about.
This is possibly the most hilarious occurrence I have ever seen on a cruise ship. A group of about 5 contestants jumped into the pool to try and do the most impressive (but sore) belly. The pool deck was packed with guests cheering on the competitors. The winner was Tony from Mexico and I definitely agreed with the rest of the crowd that his belly flop was extremely impressive.
While on the pool deck, I decided to try a mocktail. I ordered the Lime & Coconut drink from the Lime & Coconut bar without rum, and it was really refreshing and tasty. We plan to create a list of the best mocktails to try on a Royal Caribbean cruise, so be sure to share your suggestions with us!
Then I decided to use my $6 free play at the casino. I never gamble (I guess living 5 minutes from dozens of Nevada casinos does that to you!), but I still like to use my free play money. Unsurprisingly, I lost the $6 in minutes, so unfortunately I didn't win big today.
Cats
Oasis of the Seas is the third Royal Caribbean ship I've seen a Broadway show on, so seeing Cats was definitely on my to-do list this week. When I sailed Independence of the Seas and Harmony of the Seas in January the Broadway shows were changed/cancelled due to omicron so I couldn't watch Grease on either ships.
Turns out I couldn't see Cats today either due to injuries to a few of the main cast members. Instead, a cabaret was performed by selected cast members, featuring a combination of songs from the musical and songs chosen by the cast members themselves.
Although it might not be the Broadway show, I still really enjoyed the performance and the vocals were possibly the best I've ever heard on a cruise. My next ship cruise with a Broadway show will be Anthem of the Seas this summer, so I hope to see We Will Rock You once on board!
Relaxing evening
The show ended around 3:45 p.m. when I had a pre-dinner snack at the Park Cafe and relaxed in the chairs at the back of the race track.
This is one of my favorite places on Oasis of the Seas. Although I love sailing Oasis class ships, I find there are few places on board other than the pool deck where you can sit and enjoy an ocean view . Many venues, bars, and restaurants face inland, and with lifeboats covering what would be the Promenade Deck, it can be difficult to find a quiet spot to watch the ocean if you don't have a balcony. .
I am always amazed at how powerful these cruise ships are and how vast the ocean is! I can easily sit and watch the ocean for hours.
I had another quick dinner at the Windjammer. To avoid the monotony of another Indian curry photo, here's a shot of tonight's fabulous dessert selection.
The self-service buffet isn't as bad as I thought, but I make sure to use hand sanitizer once I'm done touching the serving spoons and tongs. However, I saw a family avoid washing their hands completely after one of the sinks didn't work, so I still don't believe the self-service buffet is completely hygienic. . .
After dinner, I walked a few laps on the race track, went to the spa, and returned to the race track to watch the sunset tonight.
Unfortunately, it was time to call it a night and pack for disembarkation tomorrow. I have enjoyed my stay at Oasis of the Seas for the past four days as we cruised through the Caribbean and visited Costa Maya, Mexico. It's rare to see a 4 night cruise on an Oasis class ship, so it was nice to take in all that this ship has to offer in a short amount of time!
Luckily, I don't have long to wait until my next cruise, as I'll be boarding Freedom of the Seas in just two days!
Spurious observations
Throughout Oasis of the Seas are "Little Wonders", which are small portholes that reveal a hidden image once inside. For some reason, it gives me great joy to find them around the ship and peek at the artwork inside! It's a nice touch aboard Oasis.
I went to customer service to ask a question, and while we were talking I mentioned that I was going to Freedom of the Seas this Friday. The representative gave me a Covid test at home for free without me even asking! If you are sailing on another Royal Caribbean ship within the next two days of your first cruise, they should provide you with an Abbot BinaxNow Ag Card home test.