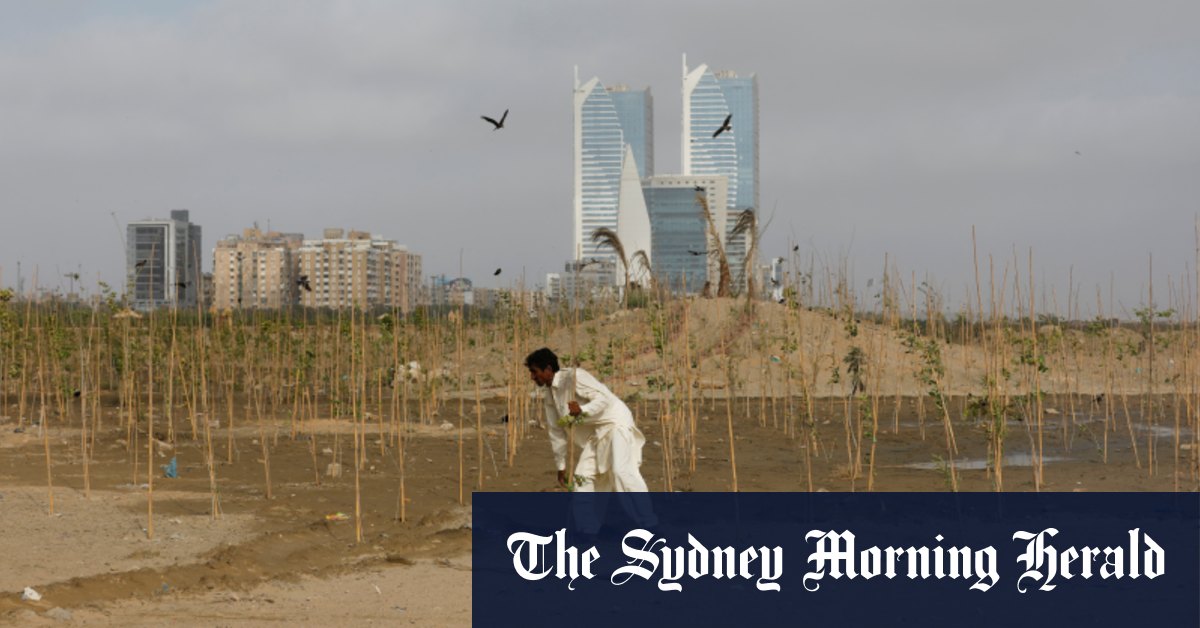 Pakistanis plant oasis where Karachi dump used to be
The aim in Clifton is to counterbalance the rapid urbanization of Karachi, a sprawling port city of some 17 million people where the dizzying expansion of roads and buildings means there is less and less space for trees and parks.
Qureshi wanted to provide shade for residents seeking to escape rising temperatures – a heatwave in 2015 killed more than 400 people in the city in three days, and temperatures in the surrounding Sindh region hit record highs This year.
Trees can also attract local wildlife, mitigate urban flooding, and provide new food sources.
"The greater the tree cover in the city, the greater the cooling, with a difference of up to 10 [degrees] Celsius when you're surrounded by trees," he said, adding that the project only used native species.
"As you plant…it attracts insects and varieties of birds start to arrive. Currently, mongooses roam the park, along with four or five varieties of chameleons.
"You give them a home, you give them food and you let it go. Nature is so beautiful.
Loading
Does planting help?
According to Syed Kamran Hussain, director of Khyber Pakhtunkhwa province at the national branch of the World Wide Fund for Nature, the overall forest cover in Pakistan, which is home to more than 220 million people, is around 5.4%.
That compares to 24% in neighboring India and 14.5% in Bangladesh, and the previous government announced a mass reforestation program that planned to plant 10 billion trees between 2019 and 2023.
"Pakistan is among the 10 most vulnerable countries affected by global warming," Hussain said. "After the oceans, trees are the second largest carbon sink."
Some climate change experts question the impact of afforestation projects – the planting of trees where there were none before – in urban settings.
The choice of species is important as it influences the number of young trees that may need to be watered – a major factor in Pakistan where water is generally scarce.
And whether to plant trees is not a simple matter: the benefits are not always clear and significant investments are needed to turn young trees into mature trees.
"What urban forestry lacks is a holistic approach to the environment," said Usman Ashraf, a doctoral student in development studies at the University of Helsinki. He did not specifically comment on the Karachi project.
"It's about visual hits, numbers, little fixes here and there," he said. "It won't even reduce the environmental damage in those cities."
Loading
Masood Lohar, who founded the Clifton Urban Forest which planted trees on the waterfront not far from the Qureshi project, said reforestation could help make Karachi more resilient to natural disasters and encourage wildlife to thrive. install.
Experts say it can also relieve heat waves, with the sea breeze becoming warmer as it passes through concrete structures while roads and rooftops absorb heat. Where to plant is a key question, with richer urban areas often being better off in terms of tree cover.
Without more trees, "we're turning the city into hell," Lohar said.
In the Sakhi Hassan cemetery in the center of town, small saplings grow among uneven headstones piled close together, while larger trees provide shade from the midday sun.
Loading
Mohammad Jahangir, 35, is a caretaker who waters the plants for a small cash donation from the parents who planted them. Seen from above, the cemetery is a sea of ​​greenery that stands out against a low-lying neighborhood.
"We don't feel the heat here in the cemetery as the city sizzles," Jahangir said. "These trees are a blessing."
Reuters