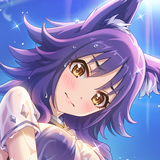 Princess Connect! Re: Seasonal Dive Specialties Gather with Makoto (Summer)!
Hey, knights! We heard we miss you, waiting for the last Princess Connect! Re: diving New. Don't worry, we're here to help you with the latest update. The summer heat may continue to beat down on the continent of Astrée, but that doesn't stop us from introducing even more exciting summer-themed dishes, characters, and stories that are waiting for you soon. Let's embark on the seas of adventure!
Get ready to make a splash with our new summer-themed character, Makoto (Summer)! Operating with an all-new outfit, Caon's wolf swordsman is dressed for fun at the beach with his fellow guildmates (more details below!). Makoto has always been known for her ability to deliver massive amounts of physical defense debuffs to enemies on the battlefield, and that's not changing one bit. Each of Makoto's (Summer) skills further improves when there is only one enemy left on the battlefield, making her skills attractive when fighting tough bosses that might otherwise pose a daunting challenge. Needless to say, this is one summer character that would be remiss to miss – and the increased Focus Gacha rates will help a lot!
You probably know the deal by now, but like the other summer characters, Makoto (Summer) is a limited character, which means she will not be included in the Premium Gacha rotation after her Focus Gacha ends. Ultimately, summer doesn't last forever, so be sure to meet her while you can! In case you need it, it can also be redeemed via character points – you won't be lost at sea forever.
The Makoto (Summer) Focus Gacha lasts for 10 days, from 04/07 23:00 UTC to 14/07 22:59 UTC.
Speaking of summer characters – we're bringing back some more special summer characters from last year for a special revival gacha! After Makoto's (Summer) Focus Gacha ends, the prize gacha makes its way to feature Tamaki (Summer) and Suzume (Summer) as they return for a five-day Prize Gacha! Guess Tamaki finally found his way back from that abandoned island after all.
The Prize Gacha system is still quite new, so a little reminder of how it works: when drawing on this Gacha, you will be able to select one of the focus characters – in this case, either Tamaki (Summer) or Suzume (Summer). Each draw you make in Prize Gacha will also come with a guaranteed prize ranging from Divine Amulets, Jump Tickets, Princess Heart Fragments, or Memory Fragments of the selected character. It's a free bundle!
Whether you're new to the game and weren't around for their first go-around last year, or you just skipped them last time, now's a perfect opportunity to beef up your boxes with these limited characters. Again, like Makoto (Summer) before them, they won't be added to the Premium Gacha rotation after their Focus Gacha ends, so don't miss this rare opportunity!
The Gacha Tamaki (Summer) + Suzume (Summer) award lasts for five days, from 07/14 23:00 UTC to 07/19 22:59 UTC.
Get ready to join Makoto, Kaori, and Maho as they hit the beach in the all-new story event, Dog Days in the Maho-Maho Kingdom: A Soulful Seaside Summer! (It's a mouthful, we know.) A kingdom isn't complete without its constituents, and Maho has the fantastic idea of ​​bringing every plush from Caon's guild house for the beach getaway. But they wouldn't just…disappear, would they?
No matter how many fluff on the beach, we should get rid of the usual formalities first. This event features unique and exclusive boss battles, where you can test your skills on three different difficulties: Normal, Hard, and Very Hard. Very Hard should be the hardest of the bunch and can only be cleared once per day. If you fancy even more of a challenge, we've also prepared another special difficulty boss, with unique challenges and mechanics that will challenge you in new ways in three different modes. Of course, for each boss you master the best, you will earn various rewards for your troubles, such as victory medals, equipment, etc.
However, to fight bosses, you will need to spend boss tickets. These Boss Tickets can be obtained by clearing event stages, as well as from login bonuses while the event is active. If you fail to defeat a boss on your first attempt, don't worry – you can retry as many times as needed, and non-lethal damage inflicted on a boss will ripple between attempts.
Makoto (Summer) may be the one taking over the waterfront but she's not the only one! During the story event period, you will be able to get a Kaori (Summer) exclusive free unit after defeating the boss on normal difficulty. Kaori (Summer) is ready in her swimwear to have some fun time on the beach with Makoto and Maho. Whether you're looking to soak up the sun on the beach or planning on fetching some stuffed animals, be sure to take this opportunity to get a summer-style Kaori before the Dog Days of Summer ends.
With so much going on during the summer, we are also increasing the experience gain rates for completing event quests. During the event, completing event quests will grant 1.5 times normal experience, in addition to the normal mana, items, and boss tickets that these quests give.
The Victory Medal Gacha also makes an appearance for the event! Clearing event stages, event missions, and defeating the previously mentioned bosses will net you Victor's Medals, which can be redeemed for a plethora of goodies. There is a pre-determined series of reward ranges, each featuring a key reward – once you've cast the current range's key reward, you'll have the option to reset the rewards and move on to the next range, or wait reset to clear all possible rewards. Here are the main rewards you should be looking for!
Lineup 1: Kasumi's Memory Shard x 20

Lineup 2: Kaori's Memory Shard (Summer) x 25

Lineup 3: Kasumi's Memory Shard x 30

Lineup 4: Kaori's Memory Shard (Summer) x 40
Remember that once you've gone through the initial four alignments, you won't be able to reset the active alignment until you've earned all possible rewards from the current active alignment.
Dog Days in the kingdom of Maho-Maho: a seaside summer full of soul! The story event will be available from 04/07 23:00 UTC to 17/07 22:59 UTC.
You're ready for a treat this July, it's time for another chance to unleash your heroines' full potential again using the mysterious powers of Unique Equipment! Prepare to stock up on Princess Hearts and Mana to unlock special gear per character that further enhances their unique skills and provides additional stat bonuses!
The following characters will have their unique gear unlocked for the first part of July:
This new unique gear set will be available for crafting on 07/04 09:00 UTC.
Blue makes a comeback with our limited-time, summer-themed furniture set. Get ready to take the beach back to the guild house to accompany Makoto (summer) and Kaori (summer). Whether you're looking to collect more new limited-time furniture or want to grab summer furniture from the latest release, we're ready to see your summer creations!
This limited-time furniture set will be available from 07/01, 23:00 UTC, so get ready to bring the beach back to the guild house. This set will only be available until 8/2, 22:59 UTC, so be sure to hang out with Makoto (Summer) by the beach in this limited-time summer-themed furniture set before the rain comes. The new additions to the Resort furniture set are as follows:
Resort Beach Chair

Marble basin

resort plant
You'll be happy to know that "grot-two" is going to be back in gold to help you stockpile resources for all the upcoming content and new characters. During the Grotto Quest Double Drop campaign, you will get twice as much mana and twice as much EXP potions by completing the cave quests. It's time to roll out the red carpet for this very important event.
The Grotto Quest Double Drop campaign lasts for 7 days, from 05/07 13:00 UTC to 11/07 12:59 UTC.
With a new set of unique gear coming in July, we know you can't have enough Princess Heart Fragments. Once again, double drops will return in the Sanctum investigation. During the Sanctum Survey Double Drop campaign, you'll collect double gear, mana, and most importantly, Princess Heart Fragments when completing the Sanctum Survey.
The Sanctum Survey Double Drop campaign lasts 6 days, from 11/07 13:00 UTC to 16/07 12:59 UTC.
Finally, the double drops will make their way into the dungeon. What's better than getting double mana from completing dungeon stages? Well, that's exactly what you'll get during the Dungeon Double Drop campaign where clearing dungeon floors will give double the usual mana.
The Dungeon Double Drop campaign lasts 11 days, from 07/15 13:00 UTC to 07/25 12:59 UTC.
For easy reading and accessibility, below is a summarized version of all the updates announced today. Thank you for all your support and we hope you continue to enjoy Princess Connect! Re: Dive in!
See you in Astraea, Knights!
— Crunchyroll Games
*Note: All event details may be subject to change. Please check the in-game notifications at the start of events for full details.
Maakoto (Summer) Focus Gacha (04/07 23:00 UTC to 14/07 22:59 UTC)

Boosted pricing for Makoto (Summer), also available for redemption through Character Exchange Points.

Makoto (Summer) is a limited unit and will only be available during the Focus Gacha period.

Tamaki (Summer) & Suzume (Summer) Gacha Prize (07/14 23:00 UTC to 07/19 22:59 UTC)

Boosted rates for Tamaki (Summer) and Suzume (Summer), also available for redemption through Character Exchange Points.

Tamaki (Summer) and Suzume (Summer) are limited units and will only be available during the Prize Gacha period.

Get special prizes including god amulets and memory shards by pulling this gacha prize.

Story Event: Dog Days in the Kingdom of Maho-Maho: A Soulful Summer by the Sea! (04/07 23:00 UTC to 17/07 22:59 UTC)

Kaori (summer) exclusive to the event can be obtained.

Event missions give 1.5x experience.

Unique Equipment (After 04/07 09:00 UTC)

Unique gear added for Kasumi, Ruka, and Nanaka.

New and returning limited-time furniture added to the Guild House Shop (from 07/01 23:00 UTC to 08/02 22:59 UTC)

Grotto Quest Double Drop Campaign (05/07 13:00 UTC – 11/07 12:59 UTC)

Sanctum Survey Double Drop Campaign (11/07 13:00 UTC – 16/07 12:59 UTC)

Dungeon Double Drop Campaign (from 07/15 13:00 UTC to 07/25 12:59 UTC)