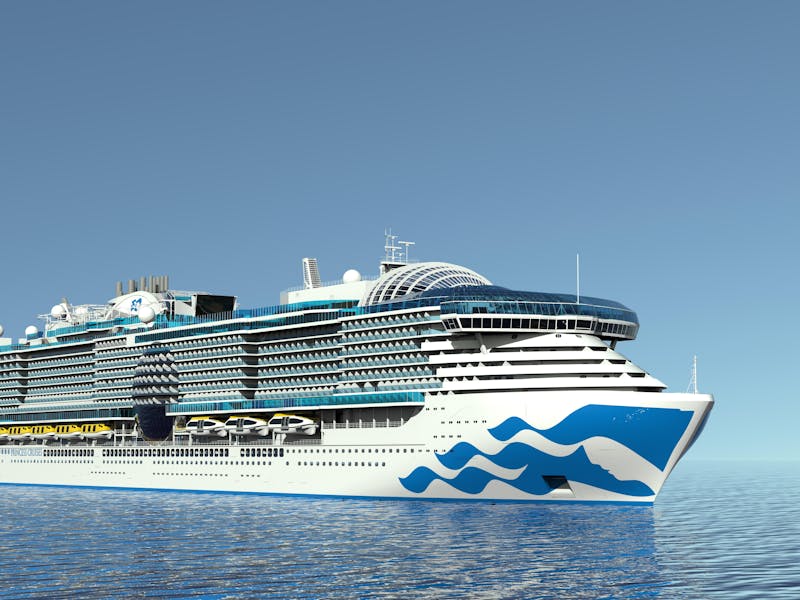 Princess names new Sphere-class cruise ship Sun Princess
(6:30 p.m. EDT) — Princess Cruises revealed Thursday that its first new Sphere-class cruise ship will be called Sun Princess and provided the first details of the experiences that will await passengers aboard the largest ship to ever launch for the line.
The first of an all-new class of ship for Princess, Sun Princess will carry over 4,000 passengers on her Mediterranean debut in early 2024. Already under construction at Fincantieri shipyards in Italy, Sun Princess will offer many new features for the line, including multi-story dining rooms, a dedicated suite category with its own restaurant and lounge, a panoramic atrium in the Piazza, and the first-ever glazed geodesic dome at sea, which spans an interior space- exterior that is part of the pool deck, part entertaining area.
It will be Carnival Corporation's 11th ship to be powered by liquefied natural gas (LNG) technology.
"Everything we do with Princess now is about how we can drive innovation," Princess Cruises President John Padgett told Cruise Critic in an exclusive interview. "We can take customer experience to the next level, but also simultaneously embrace our heritage.
"That's really what you see with Sun Princess. It's everything our guests loved about Royale class, all taken to the next level with just a few iconic features, more literally everything."
Sun Princess: an evolution of the Princess Cruises brand
The new Sun Princess – the third ship in the line's history to bear that name – will make its European debut in early 2024 before crossing the Atlantic to dock in Port Everglades (Fort Lauderdale), Florida, where it will will operate a cruise season in the Western and Eastern Caribbean.
"It's basically Princess," Padgett said of Sun Princess. "It's not meant to be a game-changing ship. It's meant to be evolutionary. And that's why we chose the name Sun Princess to make sure we're saying to the world, 'Hey, we're embracing our heritage. We love what Princess is. . And we can keep moving forward to give everyone more of what they love. ""
To that end, Sun Princess will still offer things that former Princess passengers have come to love, like the Crooner's Martini Bar; the relaxing terrace of the Sanctuary; and Princess' signature Piazza Atrium, which debuted onboard Crown Princess in 2006 as a combined atrium and entertainment space.
Princess has significantly expanded its Piazza Atrium concept aboard its Royal Class ships like Royal Princess, and is now enhancing it aboard Sun Princess with convertible LED screens, expanded space and panoramic ocean views .
New suite space aboard the Sun Princess
Sun Princess will also launch a brand new accommodation suite known as the Signature Collection, which will offer access to its exclusive Signature Restaurant, Signature Lounge and Signature Sun Terrace, the latter being a private area of ​​the Sanctuary Terrace. .
Club Class accommodation on board Sun Princess and the rest of the fleet will now be renamed The Reserve Collection. These prime location mini-suite cabins will offer a new category, the Reserve Collection Cabanas which offer a private balcony and cabana, an extra-large outdoor seating area.
Onboard Sun Princess, Reserve Collection staterooms will also have access to the Reserve Collection Restaurant, designed exclusively for guests staying in this level of accommodation.
The ship will also offer standard cabins to suit all tastes and budgets. Additionally, Standard Balcony Staterooms will now offer a sofa in the bedroom; a significant change from the cabin layout of Princess Cruises which only offered a desk and chair in standard balcony cabins.
The dome aboard Sun Princess
Princess has long used easily recognizable architectural elements to define its ships. The ex-Crown and Regal Princess of 1990-1991 included a "whale dome" atop designed by architect Renzo Piano which made these ships one of the most photographed of the 1990s. had their elevated Skywalker nightclub located above the stern of the ship.
Now Sun Princess will sport The Dome: a glazed space that easily identifies the ship at a glance. It spans a multi-level covered deck space that includes an indoor/outdoor pool with a unique water feature and comfortable places to relax. At night, the pool becomes a stage and The Dome becomes a South Beach-style entertainment venue that will feature state-of-the-art aerial performances and lighting effects.
"The Dome is clearly a distinguishing feature and a feature that everyone is wondering about and that everyone is excited about," Padgett said. "It's the first glass-covered geodesic dome on a ship, which is really neat from an architectural perspective. But more importantly, it's what it does for the overall guest experience. It allows for a versatile setup on the upper deck which has that sundeck, has beautiful lounge for a daytime experience and enjoyment in the sun, but not really in the sun."
Padgett tells Cruise Critic that The Dome is also designed to function as a sort of secondary piazza: a place of entertainment that passengers will want to relax in day or night.
Sun Princess debuts in 2024, Voyages goes on sale Friday
Princess Cruises says additional details on the upcoming Sun Princess will be revealed closer to the ship's launch.
Sun Princess will debut in early 2024 in the Mediterranean before later repositioning itself across the Atlantic to operate Eastern and Western Caribbean cruises from Port Everglades (Fort Lauderdale), Florida.
The ship's first three cruises will go on sale at 3 p.m. Eastern Time on Friday, September 16, 2022 to the general public, although the line's former elite passengers can book these sailings immediately.
A sister ship to the Sun Princess is scheduled to enter service in 2025. Princess Cruises' newest ship, the Royal-class Discovery Princess, debuted earlier this year.