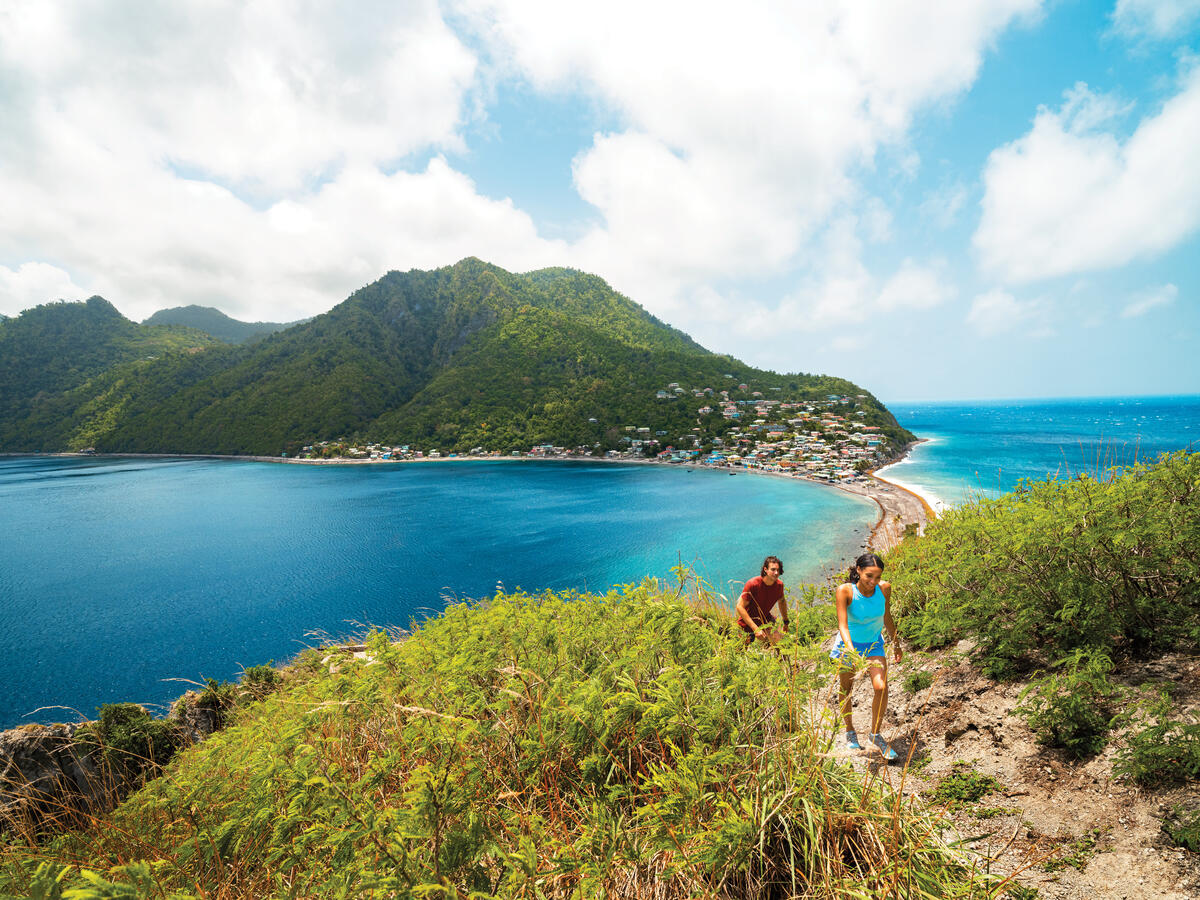 The best time to go on a Caribbean cruise
You'll find Caribbean cruises available throughout the year, so when is the best time to go on a cruise?
There are many cruises to choose from throughout the year that visit the Caribbean, and like everywhere in the world, you will find times of the year with higher and lower demand.
The key is to find a time that combines the best weather with the lowest prices.
What is the best weather in the Caribbean?
Caribbean cruises are divided into three regions: Eastern, Western and Southern Caribbean.
Best weather in the Eastern and Western Caribbean
When it comes to the best weather for a Caribbean cruise, December through April will see the most comfortable weather. During these winter and early spring months, there is the least rainfall and humidity. Also, this is the time of year that is not part of hurricane season.
Additionally, cruising between December and April means an escape for many guests who come from colder places further north. This is a popular time for many to escape warmer temperatures. When it's 5 degrees at home, spending the day in the Caribbean can be a very good idea.
Weather on excursions and beach days will be more comfortable during the winter months. Whether you're strolling through the Mayan ruins of the Costa Maya, lounging on a lounge chair in St. Thomas, or hiking in St. Lucia, you won't be as hot as you were during the height of the summer.
The best weather in the Southern Caribbean
While winter is still a fantastic time to sail in the Southern Caribbean, our recommendation for the best time to sail this region is during hurricane season.
The southern Caribbean is less likely to be affected by hurricanes, as it mostly lies below the hurricane belt. Therefore, during hurricane season in the fall, you are still likely to see lower prices, but you have a lower chance of your cruise being affected by a hurricane.
And summer?
June, July and August are the most popular months for a Caribbean cruise, and cruising in the summer comes with its own advantages and disadvantages.
In the summer, expect higher humidity, warmer temperatures, and more chance of rain. Days at the beach will be welcome as temperature and humidity levels can be quite high, and the pool deck will be a very popular spot on the ship.
Looking at a weather forecast in the summer can be a little disappointing at first, as you will often see that the forecast says rain every day. However, the rain usually does not last all day and often lasts only about an hour.
With children out of school in the summer, you should expect to see more families on board. Summer can be a good time for families to take a cruise because they don't have to rely on a school schedule, giving them more flexibility in the itinerary and length of the cruise.
One of the advantages of cruising in the summer is that the ocean temperatures tend to be warmer than in the winter. While the water in the Caribbean generally remains quite comfortable, the water temperature can become chilly in more northern Caribbean destinations during the winter. This is something you won't have to worry about when selecting a summer cruise.
Another advantage of cruising in the summer months is that daylight hours are longer. While in winter it can get dark around 5.30pm, in summer sunset may not be until 7 or 8pm, depending on where you are sailing in the Caribbean.
Should I sail the Caribbean during hurricane season?
Sailing during hurricane season may seem scary, but it's not as crazy as it sounds.
Hurricane season runs from June 1 to November 30, and this is the time of year when tropical storms are typically seen forming in the Caribbean. The most common months to see hurricanes are August and September. Of course, that does not mean that there is a hurricane every day, nor that when there is one, the whole Caribbean is affected.
First and foremost, Royal Caribbean employs a Chief Meteorologist to track every disturbance and storm, and provide advice to each cruise ship on how best to avoid the storm.
Royal Caribbean will absolutely, positively avoid the path of any hurricane. Routes will be reversed, swapped or completely changed to avoid approaching the storm. The cruise line has repeatedly said that the safety of its guests, crew and ships is vital and that it will not send its ships into the vicinity of a hurricane.
In rare cases, entire crossings have been canceled if the storm's track rules out any possibility of a ship entering or leaving its home port.
The main reason to sail during hurricane season is that it will cost you much less to sail during this time of year, and the likelihood of a storm directly affecting your cruise is low. Also, your ship will not go into or near a storm.
The cheapest months to go on a Caribbean cruise
If you're looking to get the lowest cost for a Caribbean cruise, from late August to early November, you'll see some of the lowest prices of the year.
Cruises in this period have two things in common: it's the peak of hurricane season and it's also when most families can't go on vacation due to the school calendar. The combined effect is a drop in demand for cruises and therefore a drop in prices.
You can also find great deals at other times of the year when school is usually in session, such as mid-January through mid-February, mid-April through late May, and the first two weeks of December.
While we recommend sailing the Caribbean during the winter months, don't expect to find the cheapest fares during the holidays. Cruises around Christmas and New Years will, unsurprisingly, have higher prices. That being said, the holidays can be a fun time to set sail with special menus, decor and events throughout the ship.
There are always exceptions, but the key to finding the best deal on a Caribbean cruise is trying to get there when most others can't cruise. Avoiding religious holidays and the school vacation schedule is a good start.
Holidays and festivals in the Caribbean
A great way to dive deeper into the cultures of the Caribbean islands you are visiting is to experience local fiestas and festivals. Festivals take place throughout the year and can be a unique way to experience a port during your cruise.
Are you going to Barbados? Every summer, the island nation hosts the Crop Over Festival. Crop Over is a festival that originated over three hundred years ago when the Bajan people celebrated the end of the sugar cane growing season. Nowadays Crop Over is celebrated with music, dance, arts, concerts, street parties and lots of Barbadian rum!
The festival is celebrated with events from May to August, with the biggest celebration taking place on Grand Kadooment Day in early August. Most events take place in Bridgetown, where Royal Caribbean ships embark.
The biggest festival in the Caribbean each year is Carnival. Celebrated throughout the Caribbean, the most famous Caribbean Carnival takes place in Port of Spain, Trinidad & Tobago. Carnival in Trinidad and Tobago is held annually on the Monday and Tuesday before Ash Wednesday. From street parades to calypso music, elaborate costumes and dancing, a full day of port partying is guaranteed.
Carnival and similar festivals are also celebrated in other Caribbean islands. Exact dates can change depending on the year, so be sure to check if you'll be sailing to these islands during Carnival.
Saint Lucia: mid-July
Saint-Vincent: June and July
Granada: August
Aruba: January – March
Saint Martin: April
Bahamas: May
Curacao: January – March
Dominica: February
What times of the year should I avoid?
Although there is no particular time of year to avoid on a Caribbean cruise, you may prefer a certain time of year depending on your schedule and cruising style. .
Royal Caribbean is a family cruise line. Sailings that take place during spring break, holidays and the peak of summer will have more children and families on board. If you're looking for browsing without lots of kids, these probably aren't the best times to browse. Also, if you have children and want them to be around lots of other children or teenagers, these times of the year can be a good choice.
Additionally, cruises during spring break can see an influx of college-aged students, resulting in a greater party atmosphere. Pricing for cruises during this time in March or April may also be higher than choosing to sail in February or May instead.
Often, however, the length of a cruise can have a greater impact on the ship's atmosphere, even more so than the time of year. Shorter 3- and 4-night cruises are likely to have a bigger party atmosphere and more families on board, while longer cruises tend to be quieter.
Luckily, you'll likely have good weather no matter what time of year you sail to the Caribbean. Some times of the year may be hotter, humid or rainier than others, but in general the weather in the Caribbean is warm and windy.