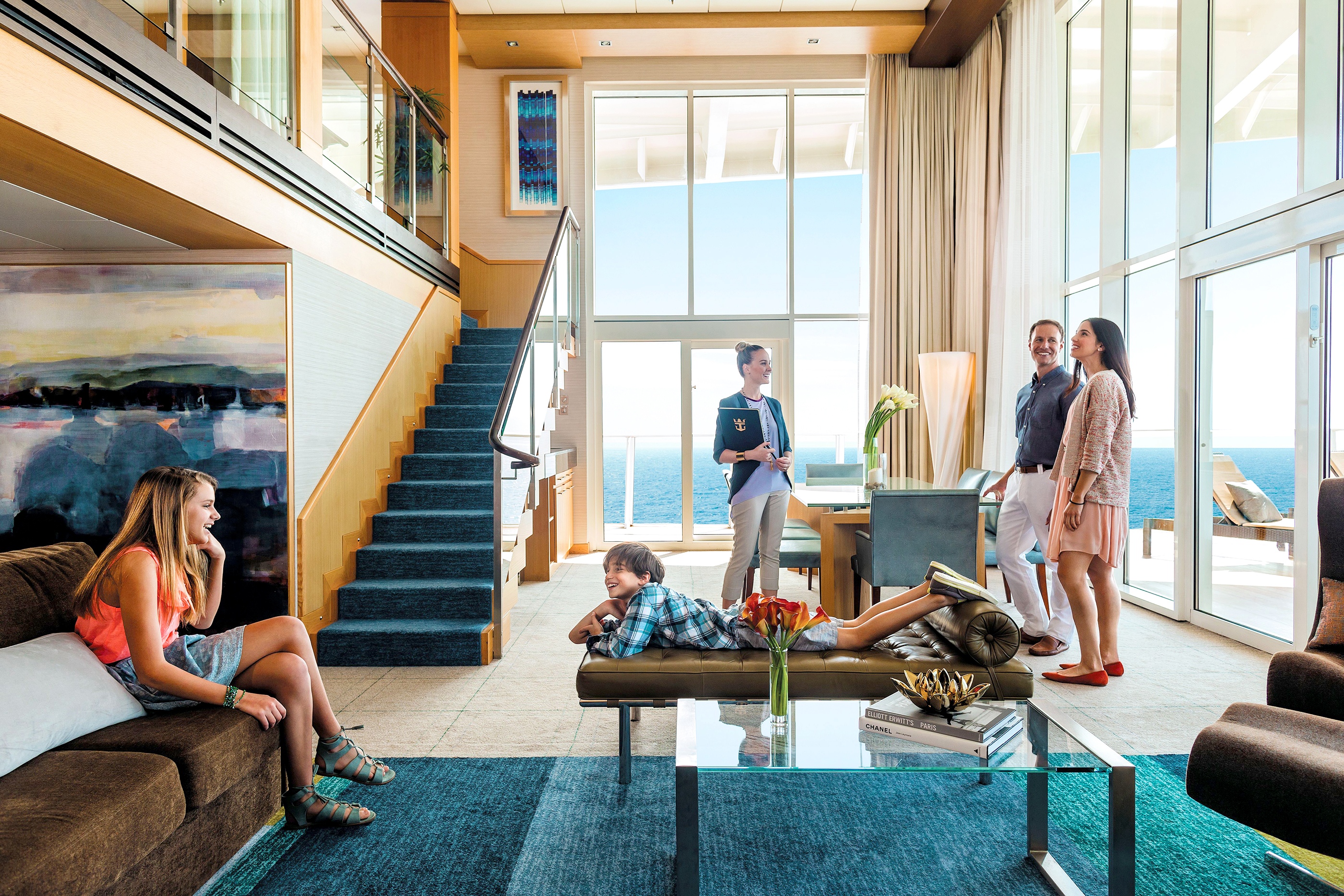 What is a Royal Genie on Royal Caribbean?
If you want to take your Royal Caribbean cruise to the next level, you should definitely consider booking a Star Class Suite with a Royal Genie!
Maybe you've heard of Royal Caribbean's incredible Royal Genie service – or maybe you're just looking for a way to treat yourself on your next cruise.
A Royal Genie is your access to a world of Royal Caribbean luxury cruising you never knew existed.
As cruise lines find new ways to incorporate luxury products that provide cruise passengers with an elevated and curated experience, Royal Caribbean has expanded its suite offerings and benefits.
Royal Genies are included in Star Class suites, which are the most tiered suites on Royal Caribbean's Quantum and Oasis class cruise ships.
Royal Caribbean cruise ships that offer Star Class suites with a Royal Genie include: Oasis of the Seas, Allure of the Seas, Harmony of the Seas, Wonder of the Seas and Symphony of the Seas, Quantum of the Seas, Anthem of the Seas, Specter of the Seas, Ovation of the Seas and Odyssey of the Seas.
Star Class suites are an investment and much more expensive than a typical Royal Caribbean cruise fare. If you're paying a premium for the Star Class suite, you'll want to make sure you know everything your Royal Genie can do to ensure you maximize your cruise experience.
Ultimate Initiate
The Royal Genie is essentially a private butler and concierge service that you can access throughout your Royal Caribbean cruise. This ultimate insider is meant to make your cruise a VIP experience from the minute you step on board. You will have privileged access to an all-inclusive cruise experience.
When staying at Star Class Suites, The Royal Genie will constantly look for ways to make your vacation more luxurious and exclusive.
The Royal Genies get involved even before you board your cruise ship to plan a one-of-a-kind vacation. You will receive a concierge and a cruise magician all in one!
Before boarding
Within 6 weeks of your cruise departure, your Royal Genie will contact you to confirm any cruise requests or preferences you have. Your Royal Genie wants to create a perfectly curated experience for you, so be honest with your preferences.
You can also share any special requests you may have for your cruise. Within reason, there is no request too big or too small that your Royal Genie won't try to meet.
Entertainment, evening shows, onboard thrills and dining can be scheduled through the Royal Genie.
Once your Royal Genie has finalized your personalized cruise plans, they will send you a link to an exclusive link to Loop, a messaging app, which you will access throughout your cruise. This allows you to connect directly with your Royal Genie.
Boarding process
According to the Royal Caribbean website, the Royal Genie will serve as your private escort during the boarding process. This also includes an exclusive baggage handling service.
The boarding process is supposed to be a breeze from the minute you arrive at the cruise terminal. A special porter will await your arrival and immediately take your luggage to your cabin.
Once you have completed the check-in process, the Royal Genie will meet you and take your traveling party directly to your Star Class suite.
What Royal Engineers Can Do
There really is no limit to what the Royal Genie can and cannot do for you.
Here are some of the typical requests the Royal Genie can make for you: reserving seats at entertainment venues, queuing (or "cutting off") for anything on board, managing dining reservations and shows, provide VIP access to shore excursions and serve as a personal onboard buyer.
The most open-ended requests Royal Genies can make include planning private events and handling special requests. This is where the possibilities are endless for what you can ask your Royal Genie.
These special requests can range from unpacking your suitcase to bringing unlimited pina coladas to warm cookies and milk before bed. Others said their Royal Genie had planned private cocktail parties or other events in their suite. Additionally, the Royal Genie can book specialty meals before boarding where you can dine all you can eat.
Royal Genie can meet all your needs, so don't be afraid to ask for what you want. You are paying for a premium service, so it is important to take advantage of it. For example, any food or drink that you would normally get yourself should be done through the Royal Genie. While it may seem minor, you can spend your cruise doing more of what you love and less time waiting in line or dealing with crowds.
Is it worth it?
Frankly, the Royal Genie experience is very expensive because Star Class suites are the most expensive cabins you can book on the newer Royal Caribbean cruise ships.
You can expect to spend around five figures if you want this ultra-luxurious, personalized experience when cruising in Oasis or Quantum Class. Of course, you might be able to get a bargain or split the cost with a tour group to make this more affordable.
Ultimately, you're paying for a premium service that only you can decide is worth it or not. If you can afford the Royal Genie and are looking for a way to really treat yourself, you can absolutely find value in this gear.
This is especially true as Oasis and Quantum class ships begin to sail closer to full capacity; that means cruise passengers will be back to queuing, fighting over dinner reservations, arriving at venues early for seats, and more. Because the Royal Genie has exclusive access to everything and anything, you hardly have to deal with any of the usual cruising annoyances.
Essentially, Royal Genie is a great way to pamper yourself on board if you want the ultimate all-inclusive experience. The Royal Genie can allow you to be self-sufficient during your cruise, ensuring you don't have to worry about anything other than relaxing.
Be prepared though – you might struggle to get back to the normal cruising experience after being treated like royalty with a Royal Genie.